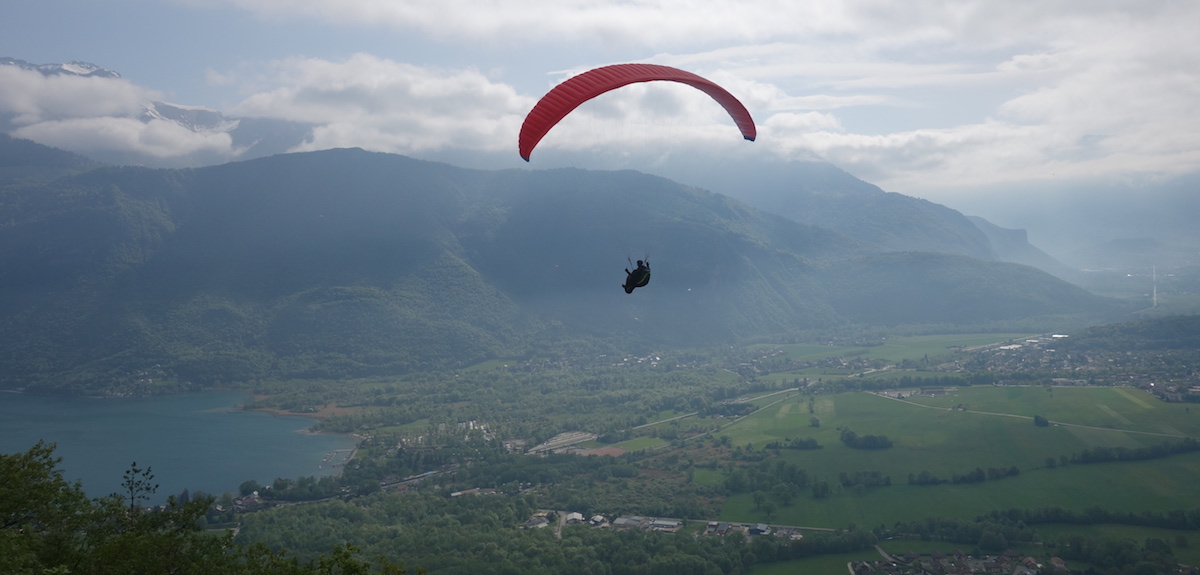 Learn to master your wing
Simulated Incidents in Flight, SIV, in the first world! Lake Annecy, France.
Sadly these courses are on hold while we resolve the difficulties imposed by Brexit. We are now looking into running a course in Slovenia in June.
Groups of only eight pilots. This is fundamental to your learning experience and only normally found in French-based SIV courses.
As well as being educational, SIV is great fun... The initial trepidation at collapsing your perfectly functional glider is rapidly replaced by a huge grin as you learn how safe your wing is and just how easy it is to pilot out of the most unusual attitudes.
If you do manage to get it slightly wrong or are just having too much fun to stop, the fresh water of Lake Annecy waits patiently below...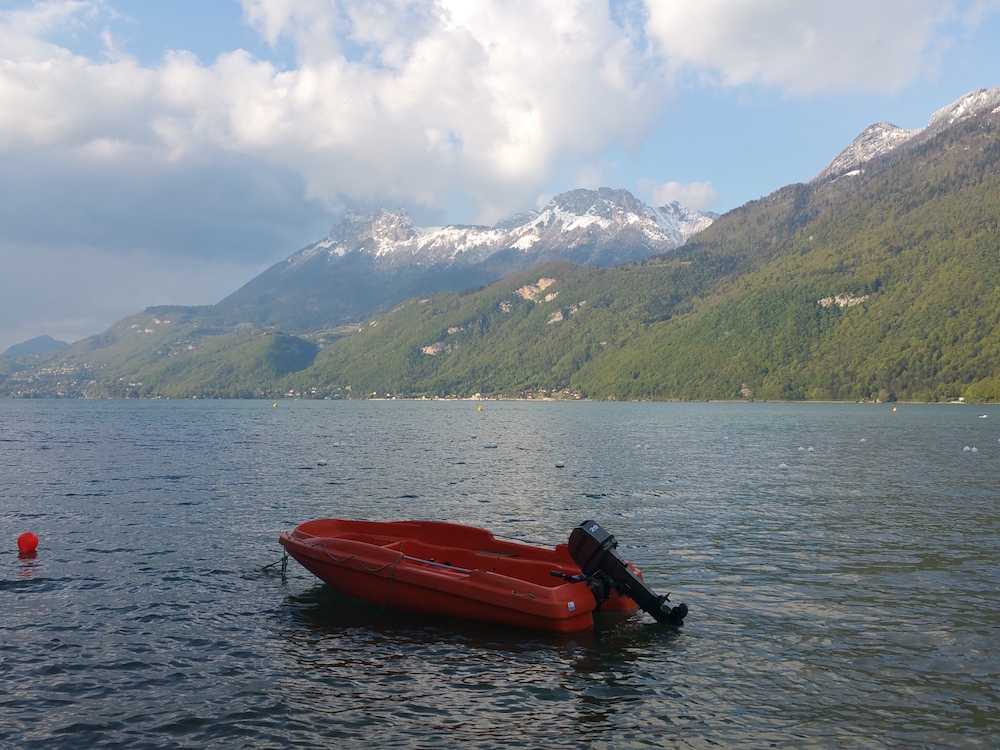 Itinerary:
Saturday: You will arrive at Geneva in the afternoon and will be driven directly to launch for an orientation flight. If you are traveling independently you need to plan to get to Aneccy by 15:00 or you'll miss the first briefing & flight.

Sunday: We'll go over reserve and harness systems, ensuring that everyone knows that theirs will function correctly if required. We'll then do some free flying - Let's see if the magic lift works and we can do the Grand Tour du Lac cross country flight.
Monday to Wednesday: loads of SIV flying, with a little free flying too if conditions permit.
Thursday: More guided XC flying unless the weather means we need to catch up on some SIV.
Friday (Trip one only): Guided XC flying
How much is it going to cost? A measly £800 for trip one & £750 for trip two, including:
- Free transfer from/to Geneva for the specified flights.
- Tuition,
- Lifejacket hire,
- Briefing and video de-briefing,
- Video of the course,
- Guided XC flying.

Catching the train from the UK to Annecy is a very good way to get there. Civilised and no luggage allowance worries. Pilots often choose to drive down in order to spend more time enjoying the flying in Annecy after the course.
Accommodation is not included. However, we will be staying at the Lac Bleu campsite and will try to help arrange chalet sharing.
Flights are not included in the cost. However the trip is scheduled around Easy Jet's low cost Gatwick-Geneva flights.
Trip one:
Departure 10:45 Saturday 18th April 2020 Gatwick to Geneva.
Returning 14:35 Saturday 25th April 2020.
Trip two:
Departure 10:45 Saturday 25th April 2020 Gatwick to Geneva.
Returning 10:55 Friday 1st May 2020.
To confirm your place please send us a cheque for £800/750 payable to 'Airtrips' or, preferably, make a bank transfer as soon as possible - Spaces are very limited and we are not planning any further SIV trips, possibly ever…
See you in Annecy!
Steve Purdie
Book now on 01273 434002.
P.S. If you fly an uncertified comp wing in a canoe harness, do SIV on that. Do not remove pods or otherwise change your setup for SIV! You will not learn how to fly your rig if you do...
P.P.S. If we get a rainy day we will aim to go skiing instead of moping about.
SIV Course Information and Essentials
Find Us
Airworks Paragliding Centre |BHPA Registered School No. 282 | The Old Railway Station | Glynde | East Sussex | BN8 6SS | Shop Tel. 01273 434002 | Weathercheck Tel. 01273 858108 | info@airworks.co.uk © 2019 Airworks Paragliding Centre
---
---
Before You Book
Before you book, please read our terms and privacy policy.
Age limits: Dual flights - 12 (can be waived in exceptional circumstances,) One Day Introduction & EP - 14, Club Pilot - 14.
Please Note: Lessons do not have to be taken on consecutive days and may take more or less days than stated, depending on the individual's ability. It is advisable not to leave too much time between lessons, as progression through your course will be detrimentally affected. If you leave more than one month between lessons, you will be required to purchase an additional days training (£99) for each month without flying. Courses must be completed within 12 months of commencing. On all our courses we will only fly if it is safe to do so and in this regard the Duty Instructors decision is final.
BHPA Membership
Membership to the British Hang Gliding & Paragliding Association is mandatory because it covers you for third party liability. This is taken out on arrival at the school.
Day membership is £16 and full annual membership is £128.
Personal Accident Insurance
Aviation is inherently dangerous and can result in injury or death.
Personal Accident Insurance is not included in your BHPA membership nor is it currently available through the BHPA. We strongly recommend that you take out Personal Accident Insurance for the duration of your paragliding course. You would have to arrange this prior to your lesson(s). We are aware that Sportscoverdirect offer such insurance